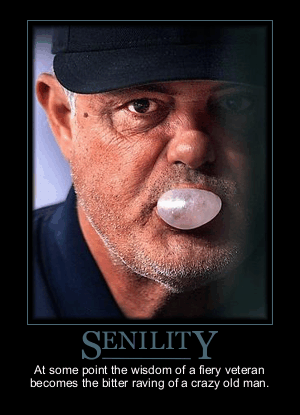 Enstiein said the defintion of insantiy is, "doing the same thing over and over again and expecting different results."
Enter Cubs GM Jim Hendry and Manager Lou Pinella, who stubbornly refuse to believe a lead-off hitter is needed (or at least useful) in this complicated game of baseball.  Instead, they keep rolling out the same old same old year after year, unhappy players playing out of position and in the wrong roles and continue to believe that the players, not the management, needs to make the adjustment.  Can't get on-base, can't drive them in, can't get anyone who knows how to pitch in the 8th or 9th innings.
The one good thing they managed to do this off-season was find a someone to do them a solid and take Milton Bradley off their hands.  They found their huckleberry in the Seattle Mariners, who gobbled up free agents the past couple months like game balls in a Hungry Hungry Hippos contest.
The Cubs starting pitching right now looks like Zambrano, Dempster and pray for rain.  Ted Lilly went down with surgery in the off-season and will start the year on the DL.  I'm sure Cubs fans are banking on Randy Wells, but more for self-preservation than anything, because you can't expect him to put up the kind of year he had last year, either.
The bullpen will be same as it ever was, guys who gets outs, just not in key situations.  Carlos Marmol reminds me a lot of ex-Tiger, now-Angel Fernando Rodney – the kind who is capable of walking the bases loaded then striking out the next three.  The only difference is Rodney got to do it in Comerica Park.  Gregg and Heilmann are both gone and although they are not the kind of guys that usually seem irreplaceable, it's going to put a lot of pressure on Jeff Smardzija to finally figure it out (who, speaking of ex-Tigers, reminds me of a lot of Matt Anderson's old performance woes despite amazing stuff).
In the outfield they went the way of replacing a free agent with inflated stats from Texas in a contract year to another free agent with inflated stats from Texas in a contract year (Marlon Byrd).  Byrd had career highs in just about every offensive category in 2009 and Hendry once again paid a free agent for his past performance instead of what he expects Byrd to do in Chicago.  By the middle of May, Pinella will believe he is in purgatory having to watch Byrd, Soriano, and Fukudome try to flag down baseballs in Wrigley on a daily basis.
The corner positions are held down by the face of the organization – Derek Lee and Armanis Ramirez – and as they go the Cubs go.  However, with a player option looming for Ramirez in 2011 and $21 million coming off the books for the Red Sox between Lowell and Beltre at third base, expect some post-season suffering for Cubs fans to be added to what they will already have to suffer during the summer.  And Derek Lee ain't getting any younger – while Micah Hoffpauir is a solid talent, he isn't Derek Lee.