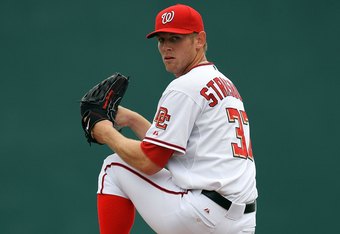 The expectations were sky high before the major league debut of Stephen Strasburg, the most highly-touted pitching prospect in recent years.  Strasburg saw those high expectations, and he raised them one.
Making his professional debut against the Pittsburgh Pirates in front of a sellout crowd in the nation's capital, Strasburg lived up to the hype – at least in his first game.  Strasburg needed just 94 pitches (65 thrown for strikes) to blow through seven innings while recording an astounding 14 strikeouts.
Strasburg's first pitch, a fastball obviously inside to Andrew McCutchen, was booed by the crowd as it was called a ball.  Of course, the crowd can't be blamed too much, as many of them had likely never attended a Nationals game before the hype surrounding Strasburg took hold.  Strasburg started several hitters 2-0, but didn't walk a single batter, showing good command.