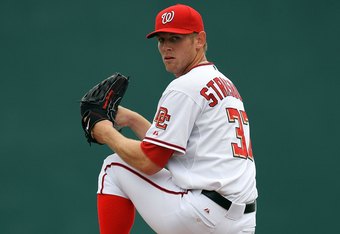 The expectations were sky high before the major league debut of Stephen Strasburg, the most highly-touted pitching prospect in recent years.  Strasburg saw those high expectations, and he raised them one.
Making his professional debut against the Pittsburgh Pirates in front of a sellout crowd in the nation's capital, Strasburg lived up to the hype – at least in his first game.  Strasburg needed just 94 pitches (65 thrown for strikes) to blow through seven innings while recording an astounding 14 strikeouts.
Strasburg's first pitch, a fastball obviously inside to Andrew McCutchen, was booed by the crowd as it was called a ball.  Of course, the crowd can't be blamed too much, as many of them had likely never attended a Nationals game before the hype surrounding Strasburg took hold.  Strasburg started several hitters 2-0, but didn't walk a single batter, showing good command.
Strasburg's 14 strikeouts tied Max Scherzer for the league high this season, and were also good enough to place him behind only J.R. Richard and Karl Spooner (who had 15 K's each) for the most strikeouts in a major league debut.
It appeared Strasburg got stronger as he went on, ringing up the final seven batters he faced.  Although it looked as though he could continue into the 8th inning, it was reported before the game that he would be on a 75 to 95 pitch count, and Washington stuck firmly to it.
The only blemish of the night for the 21-year old was a changeup to Delwyn Young, which was swatted into the first row of the right field seats, giving Pittsburgh a 2-1 advantage.  What could have been a historic souvenir for one fan was promptly (and idiotically) thrown back onto the field, however.
A solid seven innings, just four hits, no walks, an incredible 14 strikeouts, three shaving cream pies to the face, and one silver Elvis wig – quite the impressive debut for the young Stephen Strasburg.  As high as the expectations were before his first major league start, they will continue to grow with each dominant start he puts together.
And with each dominant start by Strasburg, the legend itself will grow.  Or at least it will until Bryce Harper is ready to make his major league debut.