With the regular season winding down, we're closing in on one of the most exciting times of the year for baseball fans: the MLB playoffs.
Some divisional races are heating up, while others are finally winding down, and we're getting a better idea of just who will be in, and who will be out when the postseason gets underway.
The Philadelphia Phillies, heading into Wednesday's matchup with the Atlanta Braves, hold a five game advantage in the National League East with just 10 games left on the schedule, and appear to be a lock for their fourth consecutive division title.  With yet another postseason appearance almost locked up, the two-time defending NL champs have their team firing on all cylinders and their starting rotation pitching just as every Philly fan had hoped.
Just how good is Philadelphia's "Trio of Aces," though?  Let's take a look.
Roy Halladay Prior to the 2010 season, the Phillies sent a haul of prospects to Toronto for Halladay, and he hasn't disappointed.  Last night, Halladay became the first 20-game winner for the Phillies since Steve Carlton did it 28 years ago.  Since coming to the National League, Doc has torn through opposing lineups, posting a 2.53 ERA and a 1.072 WHIP through a league-high 241.2 innings pitched.  Another impressive number:  213 strikeouts to 30 walks, which equates to a league leading 7.10 K/BB ratio.  Halladay, who picked Philadelphia as his preferred trade destination last winter, will finally get a chance to pitch in the postseason for the first time in his career.  And Doc won't disappoint.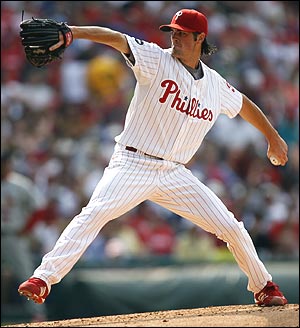 Cole Hamels Coming off a rocky 2009 season, which was riddled with bad luck, freak injuries, and disappointment, Hamels has bounced back in a big way.  The 2008 World Series MVP has been the best pitcher in a rotation full of great pitchers over the last few months.  While his overall numbers look great (2.93 ERA, 207 K's, 202.2 IP), his numbers since mid-July are even better.  Since July 11, Hamels has a 1.74 ERA and has held opponents to a .205 average in 98.1 innings.  Impressed?  How about his last six starts:  43.2 innings pitched with a 0.82 ERA.  If Hamels, who has finally successfully figured out how to incorporate a good cutter into his repertoire, can continue his brilliance deep into October, that will certainly be a one-two punch that no team wants to encounter in the playoffs.
Roy Oswalt Oh, you didn't think we were done already, did you?  A pair of aces is nice, but three of a kind is better.  That's exactly what Philadelphia got when they acquired Roy Oswalt from Houston in July.  After a dismal debut with the Phillies, Oswalt has only cruised, going 7-0 and posting a 1.55 ERA in 63.2 innings, holding opposing batters to a .187 average.  Not only is "The Wizard of Os" 7-0 since his debut, the Phillies haven't lost a game that Oswalt has started since then.  When your third starter in the playoffs is a guy of Oswalt's caliber, who is pitching the way he's pitching now, you know you're doing something right.
If Philadelphia goes with a 3-man rotation in the postseason, and they presumably will, there isn't a better playoff rotation in all of baseball.  With the way Halladay, Hamels, and Oswalt have been throwing lately, they seem to be ready to make yet another October run.  It's looking more and more likely that with each passing day, the road to the World Series will run through Philadelphia, yet again.  And that road will be riddled with three top-tier pitchers acting as speed bumps for any other NL team who makes a run at the pennant.