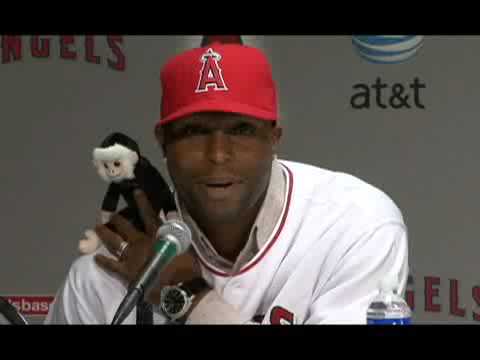 Angels center fielder Torii Hunter had a mic in his face at the wrong time this past week when he was quoted as saying that black latino players were "imposters" and inferred that Major League baseball signed black Latinos as an alternative to black Americans.  Hunter's comments, while remarkably misinformed, had a positive side effect of sparking up debate over an international draft.  Hunter's quote:
"People see dark faces out there, and the perception is that they're African American.  They're not us. They're impostors… As African-American players, we have a theory that baseball can go get an imitator and pass them off as us.  It's like they had to get some kind of dark faces, so they go to the Dominican or Venezuela because you can get them cheaper. It's like, 'Why should I get this kid from the South Side of Chicago and have Scott Boras represent him and pay him $5 million when you can get a Dominican guy for a bag of chips?'
First, let's take a look at the sticky little thing called the facts – money spent on international free agents has skyrocketed in the past three years from $29.4 million in 2006 to $70.5 million in 2009 (source – Peter Gammons blog written before the signings of Cuban LHP Aroldis Chapman, who got a six-year MLB contract worth $30 million, and lesser known Jose Iglesias, who got a $6mm bonus).
A good example of the need for an international draft and in rebuttal to Hunter's notion that Latino player's are signing for bags of chips these days – take OF Wagner Mateo who signed for $3.1 million the Cardinals, but later has his contract voided after failing a physical due to poor eyesight.  Although Mateo topped the list of international free agents in terms of signing bonus, many scouts only saw him as a third round draft pick, which would have slotted him into a signing bonus in the $200k to $500k range, although three third rounders signed in the six digit range last year, there were nowhere near the $3.1 million Mateo got on the open market.
Meanwhile, Bud Selig's suggested slot signing bonus program attempted to wrestle down signing bonuses for MLB draft picks in 2009.  After MLB spent $188mm on the 2008 draft, up from $152mm in 2007, Selig's office dropped their suggestions from top to bottom by 10%.  Maybe the biggest discrepancy can be see when an unproven prospect with a shaky track record in Cuban can sign for twice the guaranteed money ($30.25mm over six-years)  as the #1 MLB draft pick, Stephen Strasburg, who is arguably the greatest amateur pitching prospect ever with a gold medal around his neck and a long line of statistical backing ($15.1mm guaranteed, including $7.5mm signing bonus).
In case you aren't familiar with how fast the suggested signing bonuses drop off – by the time you get out of the 10th round, you're looking at signing for under $100k and if you are a college senior, forgettaboutit.  Senior righty Josh Zeid out of Tulane was taken by the Phillies with the 318th pick overall and signed for $10k – a polished, proven 22-year old pitcher who went 8-5 with a 2.94 ERA in the New York-Penn League after signing while making around $850 dollars a month.
In the Dominican, where the poverty of the country feeds into the desperation to succeed, street agents called buscones train prospects from an early age to perform in a showcase setting (and often allegedly pump them full of steroids).  There is no option for these players in football, basketball, or soccer to help feed their family – its baseball or bust.  Similar stories exist in Venezuela and Japan, where baseball is the most popular sport, although they do not face the degree of poverty that Dominican players do.
In the United States, Major League baseball has a very convenient method of developing players free of charge – it's called college.  The problem with college baseball is that scholarships are limited to 11.7 for a 32-man roster and no one is allowed to get less than 25%, all but eliminating full-rides.  At the same time, football has 85 full-ride scholarships to offer and it doesn't take a master's degree in statistics to understand that a high school athletes chances to land a free ride for football is much, much better in than for baseball, especially given the ever-rising cost of tuition.  So if you or your parents have no chance of paying for college, where are you going to focus your energy?
There are two separate issues here – one involving the problems with poor families (of all colors) in the United States being able to afford to pay for the other side of a what their son's 50% baseball scholarship doesn't cover, and the other involving the terrible international system that has developed out of MLB's indifference.  In the USA, the NCAA needs to clean up their own mess and completely eliminate partial scholarships – have you been to a college campus lately and taken a look at their facilities?  There is a DIII school by me in spending millions of dollars on indoor athletic facilities, they can afford to toss in 32 scholarships at $40k a piece, give me a break.  Internationally, take a cue from the NBA and NFL and force these kids to go to school or earn a GED and enter the MLB draft at the age of 18.