Once the World Series finishes, baseball's off season begins. Baseball's off season is more complex then just waiting for spring training to start. It is a time of reflection, hope and decisions. The General Managers of every team must assess what they have and determine what they need. Twenty-nine GM's must look at their teams and ask what went wrong? And how can they fix that? While one GM celebrates briefly a World Series victory, he then has to worry about how to improve his team so it can repeat.
GM's, who are plagued with questions about how to build a winning team, fail more often than succeed. Of course, what is success? Is success only when a World Series is won? Or only if the team reaches the playoffs? Maybe it is measured if the team substantially improves from the season before. Realistically it depends on the market and the expectations going in. The Pittsburgh Pirates may consider the season a success if they win 70 games, something they have not done since 2004, whereas for most other teams 70 wins would be a complete and utter failure. Then it is World Series or bust for teams like the Yankees or Phillies.
To complicate matters teams have budgets they have to follow in order to fill out their winning team equation. The whole complicated process makes things all the more interesting for the die-hard baseball fans. Oakland's Billy Beane has been a master at fielding a competitive team while working with a low payroll.
Regardless of payroll, a winning team can still be analyzed by an equation. Broken down in simplest terms it is hitting and pitching, but obviously is not as easy as that. Within hitting you need to consider how often you get on base and how often you are able to drive teammates on base home. To determine that you also have to consider team speed and how well players move runners over. Pitching may be even more complex. It includes your starting rotation, how deep into games you expect guys to pitch and your bullpen. Defense also plays a factor as it can help stop runs from being scored or increase them. How strong a hitter does a poor defensive player need to be?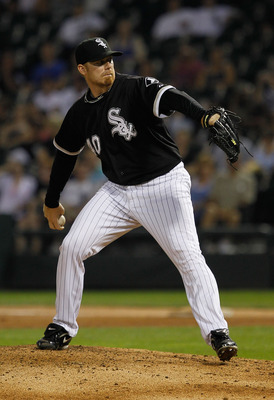 Big-market teams have the payroll to pay free agents any amount of money to come and play for them while they price the small-market teams out of the top players. Small-market teams must focus on other ways to fill out their equation needs. They may rely more on speed to manufacture runs and on team defense to help prevent them. They will rely on drafting and developing their talent and making trades to plug holes instead of doing too much with expensive free agents.
This season many teams seem to be lacking in the bullpen section of their equations. As a result there have been several bigger-than-normal deals for non-closers. This is one weakness Red Sox general manager Theo Epstein has determined his team had to address. He did this by offering White Sox closer Bobby Jenks $6 million a year to be a set up man in Boston. It was a 2 year contract worth $12 million. The Detroit Tigers gave Tampa Bay set-up man Joaquin Benoit $16.5 million over 3 years to pitch the 8th inning for them and the White Sox signed former Twin Jesse Crain for $13 million over 3 seasons.
Benoit and Jenks will not be expected to close out games for their teams this season while if Jesse Crain gets the closing nod in Chicago although he only has 3 career saves. That is a lot of money to shell out for roles that are not important. Generally these are roles that can be filled by rookies or journey men.
These aren't the only guys given closer money to either not close or to close without any track record. Scott Downs will receive $15 million from the angels over 3 years for his 16 career saves. Matt Guerrier will be paid $12 million over 3 years to set up for the Dodgers and Pedro Feliciano will receive $8 million over two years to set up for Rivera as a Yankee.
These set up salaries should ultimately increase closing salaries as well. Any relievers on the market looking to close this season should be happy about the payday coming their way. Rivera re-signed with the Yankees for $30 million over two years. While part of that may have been a response to his legacy, you have to wonder what that too will do for closers. The Arizona Diamondbacks may have gotten a steal for JJ Putz to close. At $10 million for 2 seasons he could have received more to set up for another team.
One thing is for sure, after improving their bullpens, teams are counting on their games to be much shorter. The Red Sox seem to have turned a weakness from 2010 into a strength in 2011. In addition to Daniel Bard and Jonathon Papelbon the Red Sox have added Bobby Jenks for the late innings. That takes care of the 7th, 8th and 9th innings. They also signed Dan Wheeler, whom has plenty of experience in the late inning roles, for $3 million a year. That could be considered a bargain considering Wheeler's 43 saves are more than a lot of the aforementioned relievers combined.