Money has a funny way of inspiring people to perform even better than expected. This is true in several career paths and certainly doesn't exclude baseball. In baseball, the money up for grabs is anywhere from the league minimum of $400,000 to the $27.5 million Alex Rodriguez of the New York Yankees makes annually. Salaries are based on a combination of what a player has done and what is reasonable to expect he can do. Top performers in their mid- to late twenties and early thirties are those who can expect the big bucks. Players can either sign a contract extension with their current team or they can wait until their contract expires and they become a free agent. Both scenarios have pros and cons.
As far as a contract extension goes, it is guaranteed money, and who doesn't like job security? Baseball is a gruelling sport and every player is one injury away from seeing his career end. With a long-term contract, even if the unthinkable happens, the injured player still gets paid. Free agency, on the other hand, usually means a lot more money. It can also be a strong motivator for good players to have great seasons. (Adrian Beltre's 2004 and 2010 seasons anyone?)
What happens when the best hitter in the game—without a doubt currently, perhaps even all-time—has a contract year? We are about to find out. Albert Pujols, St. Louis' first baseman, is no longer in contract negotiations with the Cards because he doesn't want to distract himself or the team from getting ready for the 2011 season. As a result, the 31-year-old Pujols could have additional motivation to perform in the upcoming season. Just to note, Pujols has never hit 50 homeruns in a season (although he did slug 49 in 2006), he has never driven in 140 runs (once again in 2006 he drove in 137) he has never had an average of .360 (he hit .359 in 2003) and he has never scored 140 runs (in 2003 he scored 137).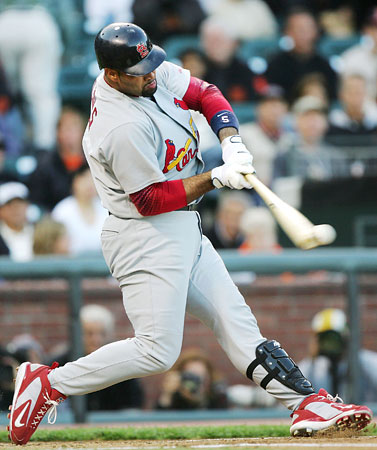 A true career year for Pujols would be nothing short of legendary. A line of 140 runs, with 50 homeruns, 140 runs batted in and a .360 average would be next to impossible. In fact, it would be unreasonable to expect any player to reach one of those plateaus. Yet the only one of those categories Pujols hasn't come within a stones throw of more than once is the 140 runs. His second best season (2004) he only scored 133. Even Albert's 162 game average—123 runs scored, 42 home runs, 128 rbis and a .331 average—will scare every pitcher who has ever played the game. This is a career year for most players.
It really doesn't matter how good a season Pujols has. Teams know what he is capable of and a bad season shouldn't diminish the pay day he will receive. I hate to say he deserves over $30 million dollars—it is hard to say anyone deserves that much to play a game—but he does deserve to be paid like the best player in the game. That means $27.5 million per season very well could be a starting point. Unfortunately for Pujols, the teams most often spending the big bucks, the New York Yankees, Boston Red Sox and Philadelphia Phillies, already have their first baggers—Mark Teixeira, Adrian Gonzalez and Ryan Howard—locked up for several seasons. That leaves the Chicago Cubs as the top team willing to spend stupid amounts of money on a player, as well as any surprise team that may drool at the prospect of locking up the best player in the game long term.
To make next season's free agent first baseman market even more interesting, Milwaukee Brewer's slugger Prince Fielder also hits the open market. The season he has coming up should impact the contract he gets more so than Pujols. Prince may also reap the benefits of a team missing out on Pujols, a team falling back on him as a secondary option. Fielder's numbers do not compare with those of Pujols, but they do compare nicely to some of the other top paid players in the game such as Ryan Howard, Joe Mauer, Mark Teixeira and Carl Crawford. At 26, this season will also help establish what Fielder's ceiling is and what can be expected of him as he enters the prime of his career. If he can hit 50 homeruns and drive in 119 runs like he did in 2007 then he could see around $20 million per season for 5 or more years.