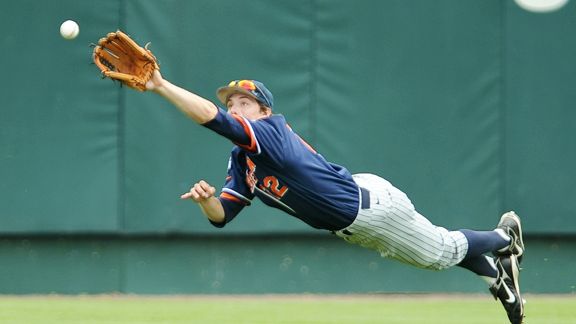 Mid-season update on who's stock is up and who's stock in down as we look ahead to the 2010 MLB Draft.
Stock Rising
Bryce Harper – C – Southern Nevada JC – The guy has been the #1 pick in the draft from day one, so I'm sure you're wondering how I can say his stock his rising.  However, now, more than ever, even the skeptics can't ignore what the 16-year old wonder boy has done at Southern Nevada – .422 average, 13 doubles, 15 home runs, 42 RBI, 25 BB, 25 K, and 12-14 SB.  The only flaw so far is his ability to stop the running game – out of 28 would-be base stealers, Harper has only thrown out three.
Gary Brown – OF – Cal. State Fullerton – Fullerton shortstop Christian Colon stole most of the early season draft attention, but early struggles made eyes turn instead to Fullerton outfielder Gary Brown, who finished the weekend with a team leading .439 average while making good on 20 of 23 stolen base attempts.
Zach Cox – 3B – Arkansas – The left-handed hitting Cox got a lot of attention for his breakout summer in the Cape Cod League, and has carried the success over to his draft-eligible sophomore season – .438 average, 5 doubles, 6 home runs, 36 RBI and an impressive 25 to 12 walk to strikeout ratio.  Good plate discipline and good defense and 3rd base will move him up into the middle of the first round.
Stock Dropping
Ross Wilson – 3B – Alabama – Wilson has struggled mightily this season, seeing his average drop from .353 as a sophomore to just .238 after last weekend.  While his defense has still been spotless – only 4 errors 130 chances – his drop in production could drop him a few rounds.
Anthony Ranaudo – RHP – LSU – It is going to take more than a sore arm to deter scouts from the 6'7″ righty, but it certainly doesn't help that half way through the college season Ranaudo has just 4 starts and 15 innings.
LeVon Washington – OF – Chipola JC – Washington as gone from unsigned first round pick by the Tampa Bay Rays to part time player at Chipola JC and entering the week is hitting just .231.  Your skill set and projection can only take you so far, eventually you need to show some results, and right now Washington can't compete against players his own age, let alone project to the big leagues.